Description
This Givi TRK46PACK2 Trekker Monokey Cases 46 Litre consists of 2 46 Litre cases designed as Monokey side Cases, fitting on to PL or PLR pannier holders, as well as one of them being able to be fitted as a top box (fitting on to any Givi Monokey Plate). This pair of Givi Monokey Cases have 46 litres of internal volume in each, aluminium outers with a Satin Matt silver finish and plastic outer protectors. Rather uniquely these pannier feature a small top opening that is  integrated in to a standard opening lid making it easier to access those smaller personal items. The Givi T484B internal bag will fit neatly into a Givi Monokey Case enabling the contents to be removed quickly and easily leaving the case on the motorcycle. For those who are a little more adventurous and with a lack of luggage space the Givi E149 Support combined with the Givi TAN01 2.5 Litre Jerry Can can be attached to the outer of these cases as can the Givi E162 Support combined with a Givi STF500S Thermal Flask. A Trekker Case can be bought singularly, i.e Givi TRK46N Trekker Monokey Case 46 Litre which could be combined with a Givi TRK33N Trekker Monokey Case 33 Litre, ideal for those motorcycles with a high exhaust on one side, e.g Honda CRF1000L Africa Twin with Givi PLR1144 Pannier Holders.
Specifications and design features of these Givi TRK46B Trekker Monokey Cases 46 Litre includes;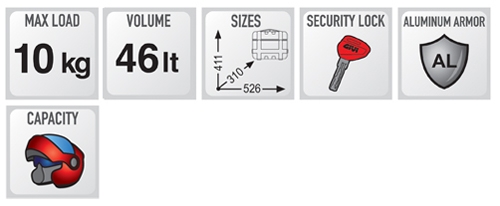 For a full listing of Givi Motorcycle Luggage Fitting Kits please click here.