Description
This Givi ES1161 Sidestand Extension Honda CRF1000L Africa Twin 2018 2019 models is made from Aluminium and Stainless Steel designed to give a larger supporting surface area over the original manufacturers side stand. Ideal for touring this three part side stand extension offers a more stable holding position especially when parking off road, and fully loaded.
To view the PDF instructions and details please click here.
Benefits and features of the Givi ES1161 Sidestand Support Fitting Kit for the Honda CRF1000L Africa Twin, 2018 and 2019 models include;
Made from Aluminium and Stainless Steel
Fitting Instructions
The fitting kit includes;
1 x Lower Support
1 x Support
1 x Upper Support
4 x M5x8mm Torx T25 Screws
1 x 100mm Tape
Fitting Instructions
The Givi ES1161 Sidestand Extension fitting kit is simple to fit, simply place the lower support (A) under the foot with the tape attached to the base (as shown), place the middle support (A) on top of the lower support, locate on top of these the Upper Support (B) and then use the 4 supplied M5x8mm T25 screws to securely attach all 3 supporting plates together. It is recommended to use threadlock lock around the screws to ensure the screws will not come loose under engine and road vibration.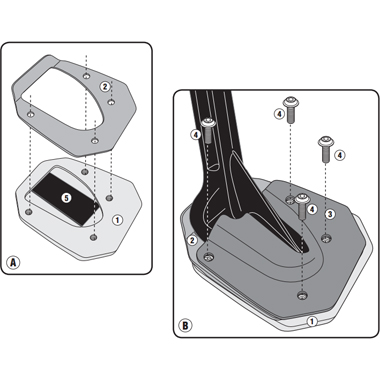 Please note that fitting the sidestand extension may limit the lean angle.